Our science vision:
At Old Buckenham Primary school, children are inspired to learn something new through an exciting, engaging curriculum. Learners are curious about the world around them and are given opportunities through practical investigations to deepen their understanding.
Our principles:
To use a consistent teaching sequence
To celebrate science learning across the school
To make science practical and engaging
To use real life examples to understand concepts
To use scientific vocabulary to develop oracy
To create an environment where children are curious and are keen to ask questions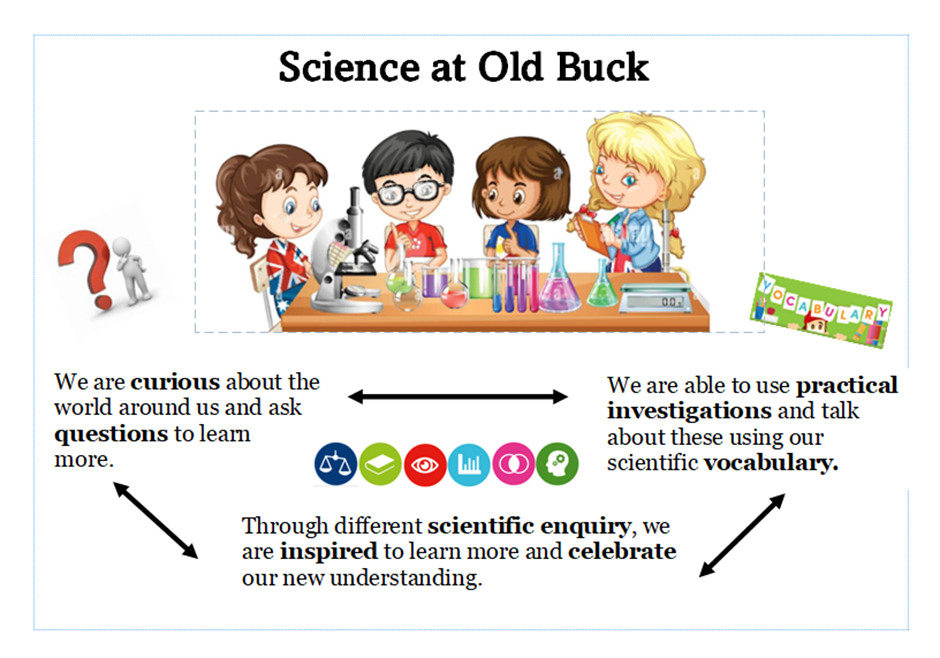 Intent:
In Science, we intend to inspire pupils with a curiosity and fascination about the world around them. We will develop their scientific knowledge and conceptual understanding as well as their scientific language, enabling children to talk about their methods and explain their findings and conclusions. The curriculum will motivate them to become effective communicators of scientific ideas, facts and data whilst enhancing their practical skills of scientific enquiry.
We follow the Plan Matrices scheme of Work. By implementing this scheme we will teach all objectives from the National Curriculum with a clear progression of skills between each year group, and a love of science promoted within our school. This supports the development of different types of scientific enquiry whilst embedding a deep, detailed understanding of scientific concepts over time.
Through our use of trips and enrichment activities, we aim to provide opportunities to take part in science focused experiences or to share in other activities which will enrich our children's learning in this subject, for example by celebrating National Science Week.
Assessment:
At the beginning of each unit, teachers use a pre-assessment technique known as 'KWL' grids, to gain a clear picture of what each child knows and wants to learn. Upon completion of each unit, the children will complete the final grid of what they have learnt, encouraging self-assessment within the subject.
Teachers use ongoing formative assessment throughout science lessons to inform their judgements. This is done through a range of mini-quizzes, formal written work, oral discussions, and end of unit checks.
At the end of each unit, teachers use a simple assessment grid, categorised into working below, at or above the expected standard, which enables them to assess each child's progress against the objectives for the unit of work.
For more information regarding the progression of knowledge and skills across the science curriculum, please see the attached documents below:
Science-Progression-of-Skills-22-23-KS2.pdf